Programs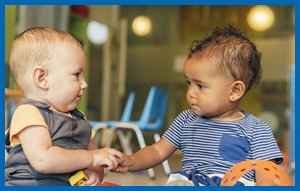 Typical 1 year old's day
In our 1 year old room, teachers focus on introducing age appropriate routines throughout the day, while maintaining the ability to cater to children's necessary individual needs. We understand the importance of providing the tools and encouragement for opportunities for discovery at this age. Our nurturing home-type environment works to facilitate growth and development.
7:00-9:00 Welcome
9:00-9:30 Diapers/Morning Snack
9:30-10:00 Outside Play
10:00-10:15 Diapers**
10:15-11:15 Morning Activities*
11:15-11:45 Lunch
11:45-12:00 Diapers
12:00-2:00 Nap Time
2:00-2:30 Diapers/Quiet Activities
2:30-3:00 Outside Play
3:00-3:30 Snack
3:30-4:30 Diapers/Story Time
4:30-5:30 Fun with Friends/Games
5:30-6:00 Diapers & Goodbyes!
*Morning and Afternoon activities include: Music & Movement, Sensory, Manipulatives, Gross
   & Fine Motor Skill Development, Art, Story Time and Free Play
**Diapering occurs within a 2 hour time frame and as needed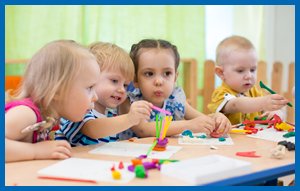 Typical 2 year old's day
Our Toddler rooms follow our thematic and age appropriate curriculum, highlighting play-based learning. In the Toddler rooms, teachers encourage self-help skills, social skills, and independent thinking. The Toddler program is a crucial milestone for children attending Duck Pond Day Care, as it is where children begin to potty-train in our center. We will work with your child on potty-training throughout the day with support and positive reinforcement! Routines are also essential in the Toddler classrooms. The structure of the Toddler program's everyday routine helps children feel comfortable, safe and at ease when they know what will be happening after engaging in an activity.
Weekly lesson plans are posted for parents as we feel it is imperative to keep you updated and involved with your child's class's particular goals and objectives for the week. Daily sheets also highlight the specifics within curriculum activities and show your child's unique routine in more depth
7:00-8:00 Good Morning/Manipulative Play
8:00-9:00 Child's Choice
9:00-9:30 Snack Time
9:30-9:45 Bathroom
9:45-10:00 Art/Center Choice
10:00-10:20 Circle Time
10:20-10:30 Bathroom
10:30-11:00 Outside Play
11:00-11:30 Story/Music
11:30-12:00 Lunch
12:00-12:15 Bathroom
12:15-2:15 Nap/Quiet Time
2:15-2:30 Bathroom
2:30-3:00 Snack Time
3:00-3:15 Story Time
3:15-3:45 Child's Choice
3:45-4:00 Bathroom
4:00-4:30 Outside Play
4:30-5:00 Manipulative & Texture Play
5:00-5:15 Bathroom
5:15-6:00 Goodbyes/Centers/Quiet Play
*The bathroom is open and available all day, in addition to the scheduled times listed above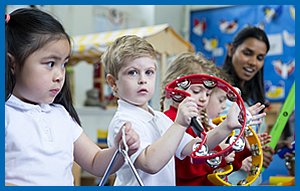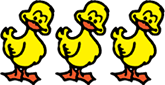 Typical Preschool child's day
In our Preschool program, teachers help provide an environment with opportunities for discovery while implementing readiness skills for Kindergarten. Through intentional teaching, we promote a forward thinking process with open ended questions, child directed ideas and problem solving experiences. Child-initiated activities allow participation and discovery in science and math, literacy and language, fine and gross motor development, dramatic play, music and movement, as well as exposure to multi-cultural areas of your child's world. In addition, our staff strives to focus on teaching proper hygiene practices, social skills/peer interaction, and good conduct. Teachers also incorporate character development traits into our monthly themes and role model them throughout our day.
7:00-8:45 Arrivals/Free Play
8:45-9:15 Clean-up/Morning Snack
9:15-9:45 Morning Circle
9:45-10:45 Art/Writing/Small Group Activities
10:45-11:30 Music & Movement/Story
11:30-12:00 Outside Play
12:00-12:15 Books and Puzzles
12:15-12:45 Lunch and Bathroom
12:45-2:30 Nap/ Rest Time
2:30-3:00 Bathroom & Snack
3:00-3:30 Math/Science Activities
3:30-4:30 Outside Play
4:30-5:00 Stories/Small Group Activities
5:00-6:00 Child's Choice/Clean-Up/Goodbyes